HOW TO: CREATE A SHEER MAKEUP THAT LASTS LONGER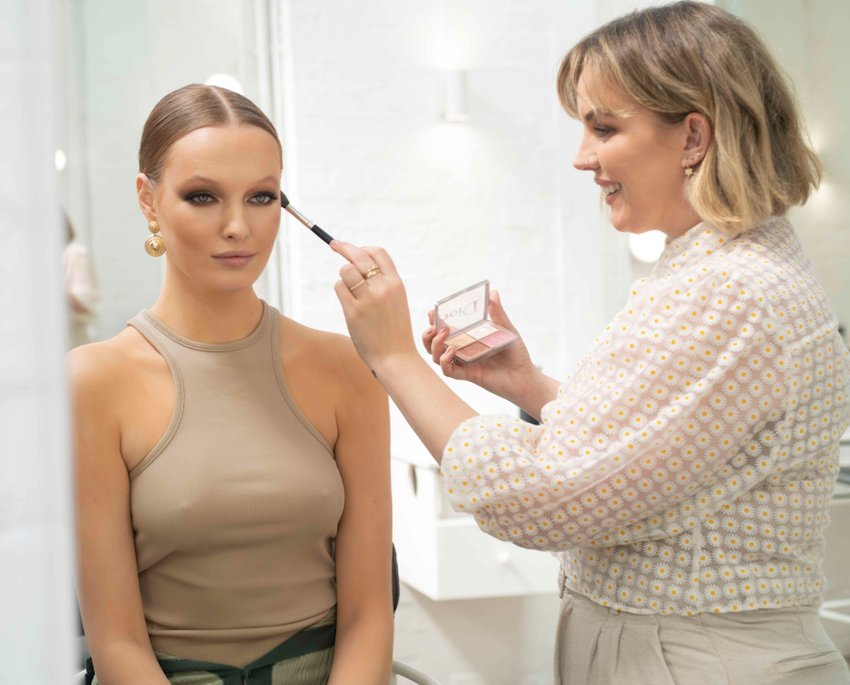 How often I have been asked as a makeup artist to create a natural look under trying conditions like high temps, a client with oily/hot skin or a busy event which causes break downs in the makeup quicker.
I wont lie, it is hard but as long as with the attempt to do it comes the expectation that it may require a touch up here and there through the day.
The trick comes through using sheerer, grippier products that are applied in light, sheer layers.
Step 1. Skin prep but avoid any moisturisers or serums that are oily or oil based. Keep to thin & water based products ie. Hyaluronic Acid & a moisturiser over an oil.
Step 2. Apply the Holme Base Primer using Brush One and apply all over the face.
Step 3. If you use your foundation, apply with a smaller amount than you are used to. Using half a pump and buff thinly with Brush One everywhere but under the eyes.
Step 4. Concealer is super important for longevity. Use thinly but buff using Brush Two under the eyes, on the nose and on any areas you wear & tear more ie. Nose, cheeks & chin.
Step 5. Either continue with cream products like the Holme Base Primer in a darker shade & cream blushes.
Step 6. Using the Holme Highlighter apply to the areas you want to add a glow that will last all day. With Brush Two lightly blend the liquid highlighter onto the cheekbones, brow bone, inner corner of the eye, bridge of nose and cupids bow. The water based formulation will ensure it will not move!
Step 7. Powder Powder Powder. Such an important step. Depending on how oily/hot you get apply the amount that will hold it. If you don't get oily then use less. Using Brush Two ensures you are more specific with where you put it and it will get into all the nooks & crannies.
Step 8. The Holme Base Setting Spray in Golden Hour Glow will change the way you view powder. Instead of that cakey feeling you can be so used to when using powder, spraying this liberally all over your skin (the cakeier you look, the more you spray) and very importantly, it needs to be set down by fanning it til its dry. Very important!
These thin, grippy micro layers will ensure a stable base that wont crack, move or break down. If you naturally are warm in the skin, have oily skin or are in particularly hot/active environments then you will need to reapply powder and setting spray.